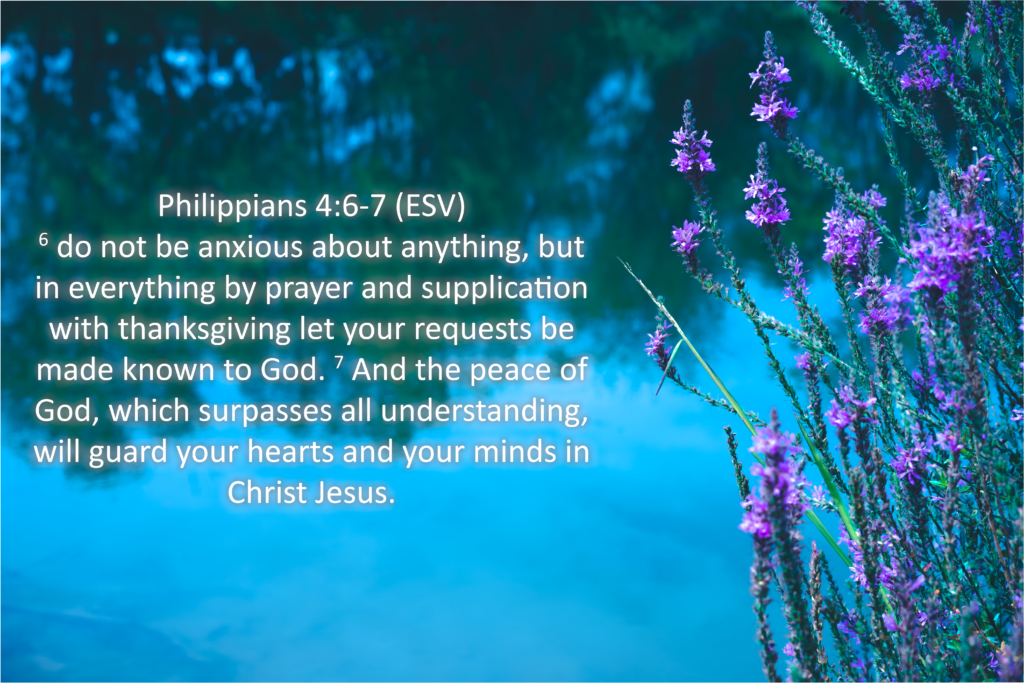 Anxiety and OCD has been an old nemesis of mine for so long. I suffered from all sorts of anxiety attacks ranging from low-grade ongoing persistent type to extreme sheer panic. Oftentimes they seems to stem out of nowhere or get started by irrational thinking/perception or from anticipation of social interaction. The attacks also have evolved over the years in terms of having different things to be anxious about. Dang! Poor guy!
Sometimes I would feel like Paul, in a way that God would pick one of the tough cases so He could demonstrates His perfect LOVE and PATIENCE and POWER in my life for others to see. I felt like I was a very very tough case and it took God and my brother in Christ a long while to help me. Also it shows that He is ABLE to fix us. For what is impossible with man is possible with God. Believe me, I've tried many many times to 'fix' my own anxiety and OCD issues, but I couldn't fix it no matter how hard I tried. It was very frustrating to me because I didn't want to suffer form anxiety and OCD, who would want that? I'll rather prefer a peaceful and quiet life in God.
Anxieties and OCD attacks are terrible things to endure! God doesn't want His children to suffer from this, so I pray this posting will help someone out there! To be set free! If God can do me, then He surely can do you!
I made a short list below just to give you a taste of what sort of anxieties I've had. I wanted to be transparent with you, so you don't have to feel embarrassed and know that you are not alone. And most importantly know that God can help you! You can trust Him! He is more than able!
– Feeling that I could be falsely accused of some kind of horrific crime and made to endure the shame forever. That someone would come barging into the classroom and take me away. That everyone would look down upon me. What's really lame about this is that I knew it was irrational but couldn't help feel anxiety as if it was a very real thing.
– Social anxiety which made me shy and unsure about interacting with folks. This also includes anticipatory anxiety for when I know I will be interacting with folks I know in near future. Sometimes I would feel uneasy in social settings. This made it harder for me to interact socially in my life, leaving me even more isolated.
– Random anxiety out of nowhere, and then this would triggers a secondary anxiety of me trying not to show anxiety on the outside which made the anxiety worse. Because I want to look calm and composed, right? Dang! Poor guy!
– Anticipatory anxiety, as if I was expecting something bad to happen. But for no apparent reason.
– Bad tendency for my thoughts to jump to the worst case scenario. Like for example, if someone doesn't respond or talk to me, sometimes my thinking assumes the worst and think that person doesn't like me or decided to reject me or that I did something wrong or offensive to that person.
– The absolute worst anxiety attack I could possibly get is what I would call Religious OCD Anxiety. Sometimes I would get intrusive thoughts of God not wanting me or rejecting me for whatever reasons. Or something that would make me second guess my place as God's child. So my thoughts would take me back and forth like a wave of the sea driven and tossed by the wind, extremely unstable in thoughts. Going from one extreme end of confidence in God to another extreme end of doubt and despair and fear, multiple times. Which is what this following verse reminded me of:
James 1:6-8 (ESV) 6 But let him ask in faith, with no doubting, for the one who doubts is like a wave of the sea that is driven and tossed by the wind. 7 For that person must not suppose that he will receive anything from the Lord; 8 he is a double-minded man, unstable in all his ways.
To give you an example of (very irrational) thoughts I've had – "oh wait I haven't sought God's face enough since I had been lazy lately, I need to do MORE! Oh wait…. that would be relying too much on the law! I am only saved by Grace. Oh wait, I lack faith so I don't have this!" And so on…
Over-thinking and over-analyzing would steal my joy with God and take me down in no time. This type of anxiety made it extremely difficult for me to be reassured, even with God and my brother trying to reassure me! God even had to tell me to calm down multiple times! It was truly awful and gave me wrong perception of loving God. But thankfully God is a patient God, extremely patient with my frenzied antics, even with me yelling in frustration at times (mostly on the inside).
So God out of His tremendous and patient love, through my brother in Christ, worked hard for long time to straighten me out. He had to be tough on me at times so I can learn how to stand firm in FAITH, to hold FIRM IN FAITH. For we do not struggle against the flesh, but against the dark powers in the spiritual realm. God never gave up on me! My brother in Christ never gave up on me! They kept at it unceasingly so they can see me grow and thrive in Christ! I am truly thankful for their steadfast love and faithfulness.
I had to realize that not all feelings and thoughts comes from ourselves. Hence it was important for me to learn God's truth and to use them against the imaginations and thoughts that opposes God's truth. Our mind is the battlefield. We can choose to keep or kick out certain thoughts. So I try to fill my thoughts with God's truth so if anything comes against it, I use God's truth to fight back! God wanted us to be His warriors!
Ephesians 6:10-13 (ESV) 10 Finally, be strong in the Lord and in the strength of his might. 11 Put on the whole armor of God, that you may be able to stand against the schemes of the devil. 12 For we do not wrestle against flesh and blood, but against the rulers, against the authorities, against the cosmic powers over this present darkness, against the spiritual forces of evil in the heavenly places. 13 Therefore take up the whole armor of God, that you may be able to withstand in the evil day, and having done all, to stand firm.
2 Corinthians 10:4-5 (AMP) 4 The weapons of our warfare are not physical [weapons of flesh and blood]. Our weapons are divinely powerful for the destruction of fortresses. 5 We are destroying sophisticated arguments and every exalted and proud thing that sets itself up against the [true] knowledge of God, and we are taking every thought and purpose captive to the obedience of Christ,
Isaiah 54:17 (ESV) 17 no weapon that is fashioned against you shall succeed, and you shall refute every tongue that rises against you in judgment. This is the heritage of the servants of the Lord and their vindication from me, declares the Lord."
Isaiah 54:17 (AMP) 17 "No weapon that is formed against you will succeed; And every tongue that rises against you in judgment you will condemn. This [peace, righteousness, security, and triumph over opposition] is the heritage of the servants of the Lord, And this is their vindication from Me," says the Lord.
Also I wanted to bring up the story of Esther. Law was decreed to kill all of the Jews. This is similar to how the law demands that all of us to be put to death for our sins. In the story of Esther – another law came in, allowing the Jews to defend themselves with weapons if anyone came against the Jews. Likewise, we have another law, a law of Grace and Faith! We can certainly use that to fight back against our enemies, for the enemy want us to go back to law of slavery and death.
Galatians 5:1 – 5 For freedom Christ has set us free; stand firm therefore, and do not submit again to a yoke of slavery.
It has improved so much since God started working on me a while ago. It took a very long time, for I was a very slow learner in way of God's kingdom and struggled with many issues. I have a bad habit of depending on perceiving things from my own intellect rather than seeing things in spiritual sense. Kinda like Nicodemus who seemed to love Jesus, but was an intellect type. God and my brother labored on me for very long time. I have come a very long way since then and I praise God for helping me heal, and continues to do so toward full healing and restoration. For God heals completely!
And guess what? One day God said I was healed, ironically shortly after I started working on mental health blog series. Just… like… that! Bam! Dang! He moves fast! I just had to believe it and stand FIRM! And press on!
I do confess that once in a while I do stumble and fall, but then I remember to apply the weapon of God's WORD, God's TRUTH, God's SHIELD OF FAITH, God's HELMET OF SALVATION, God's BREASTPLATE OF RIGHTEOUSNESS. I've learned how to walk better and better each time. Like an toddler learning how to walk in the ways of God's kingdom. Each time walking better and better! Just gotta keep on keeping on! Keep rocking it in Christ!
So what have I learned so far?
– Know who you are in Christ, See yourselves as God see you, NOT HOW YOU SEE YOURSELF!
– Don't think too highly or too lowly of yourself. Our focus is to be on GOD, which takes our focus off SELF. WE JUST SIMPLY BE GOD'S CHILD! And Rock it in Christ!
– Learn the TRUTH, feed on the TRUTH
– HAVE FAITH AND TRUST GOD AND STAND FIRM IN THAT FAITH AND TRUST!
Proverb 3:5 (ESV) 5 Trust in the Lord with all your heart, and do not lean on your own understanding.
Jeremiah 17:7-8 7 "Blessed is the man who trusts in the Lord, whose trust is the Lord. 8 He is like a tree planted by water, that sends out its roots by the stream,and does not fear when heat comes, for its leaves remain green,and is not anxious in the year of drought, for it does not cease to bear fruit."
– Wield the weapon of God's WORD
– Remember that not all thoughts/feelings comes from God or yourself, some of them comes from the enemy! So take control of your mind! Kick enemy's thoughts out!
– Keep CHRIST in your mind and heart at all time, make Him #1
– Anxiety and OCD may come against you like a storm coming against the boat, but remember that verse about Christ and storm.
Matthews 8:23-27 (ESV) 23 And when he got into the boat, his disciples followed him. 24 And behold, there arose a great storm on the sea, so that the boat was being swamped by the waves; but he was asleep. 25 And they went and woke him, saying, "Save us, Lord; we are perishing." 26 And he said to them, "Why are you afraid, O you of little faith?" Then he rose and rebuked the winds and the sea, and there was a great calm. 27 And the men marveled, saying, "What sort of man is this, that even winds and sea obey him?"
When Peter focused on storm, he started to sink, when Peter focused on Jesus, he was able to walk on the water. So we keep our eyes fixed on Jesus Christ! So if the storm of Anxiety and OCD comes against you, don't focus on the STORM, but FIX YOUR EYES ON JESUS! For He is our protector, our righteousness, our safety!
– Don't embrace your own humanities or hold on your issues! Jesus promised us FREEDOM in Christ! We can let go of our old SELF and walk in the NEW SELF after Him! Don't think yourself as someone who has anxieties and OCD BUT INSTEAD think it as storms that goes up against you, RESIST anxiety and OCD while TRUSTING IN GOD! And wait upon God to do His thing! Just keep at it in the storm till it goes away! Jesus is our GUIDING LIGHT! HE IS OUR PEACE. The storm will eventually clear away as we keep our gaze FIXED UPON JESUS!
Each of us are different and unique, and our healing journey may be similar or different in certain aspect. God knows how to do each of us in our own unique way.